by Kara Thomas
"My sister. She smiles at me from the largest photo in the biggest trophy case. She's posing for the camera with four of her friends. Their mouths are painted cherry. Their cheer pleats are blue and yellow. The photo is from the first home game of the season, five years ago, when there was still a cheerleading squad. A wave of nausea ripples through me. Every day after gym, after dance team practice, I go out of my way to avoid this picture."
"I knew all of the girls in it, some of them better than others…they all smile at me…It really is a beautiful picture. By the end of the season, everyone in it was dead."
Ratings & Reviews
Book Grade: B
I love a good YA mystery – seemingly ordinary teenagers become detectives to solve cases that everyone else accepted were solved. The Cheerleaders is no exception. With fast-moving dialogue and twists and turns galore, this book hooks readers early on. With this in mind, though, The Cheerleaders is far from tame. Monica has an intense, aggressive side that threatens to spill over with every interaction. While the mystery is compelling, there are lots of unnecessary details that are designed to mislead the reader (perhaps perfect in a mystery book, but deeply frustrating, too).
Did I yearn to know what really happened to Jennifer and the other cheerleaders? You bet! Did I want Monica to unearth the truth around a mystery that everyone accepted was solved, even though many of the details were unsettling? Absolutely. Did Monica drive me crazy with her whining and incessantly selfish actions? 100%! That being said, it was an enticing read with an interesting mystery that mature readers will likely find intriguing.
Movie Rating: R
The Cheerleaders has lots of material that makes it inappropriate for younger readers. It has frequent swearing, casual mentions of intimacy (even between a teenager and a much older man), drug references, and early on, Monica discusses how her mom took her in to get a chemical abortion. Monica is a difficult character to like because she is defiant and disrespectful, but I found myself drawn to the storm she was creating. The Cheerleaders has a great mystery foundation, and works to show the negative effects of bullying and how easily teenagers can be misunderstood, but it also reinforces that teens and their parents will never get along, and sibling relationships are not priorities.
Would I Buy This for My Library: Maybe
This book is pretty edgy, but it is engaging. It dives into fairly controversial stuff and normalizes it (a 16-year-old sleeping with a man over a decade older than her is brushed off casually) which can make this a bad fit for some school libraries. At one point, the narrator observes some men making out with each other and comments on how relieved she is that PDA like this is accepted because in her own community, they are too conservative to accept this as normal. Students who are mature enough to look past the politics will find a solid mystery, but this has content that is definitely not suited for every student and might prove questionable to some parents.
Summary:
Monica's older sister, Jen, died five years ago. As the anniversary of her death (along with the murders of the other cheerleaders on the team) approaches, Monica begins to suspect that she doesn't know the whole story and becomes determined to look into what really happened to the cheerleaders. Jennifer was the popular, kind cheerleader who apparently committed suicide after her teammates were brutally murdered, yet the further Monica digs into the events surrounding the cheerleaders' deaths, the more she realizes she missed. Monica has worked hard to distance herself from the legacy of her sister, yet with all of these questions surfacing, she can't help but be drawn into a world (and a mystery) that she thought she had left behind.
Monica dives into the mystery, yearning for the truth, but realizing that she may not have known her sister as well as she thought. Told in alternating narratives – Monica in present day and Jennifer five years ago – this story has layers of mystery, suspense, and drama. It is a gritty story with lots of twists, turns, and secrets, and makes it clear that while the cheerleaders were tragic victims, they also were far from innocent.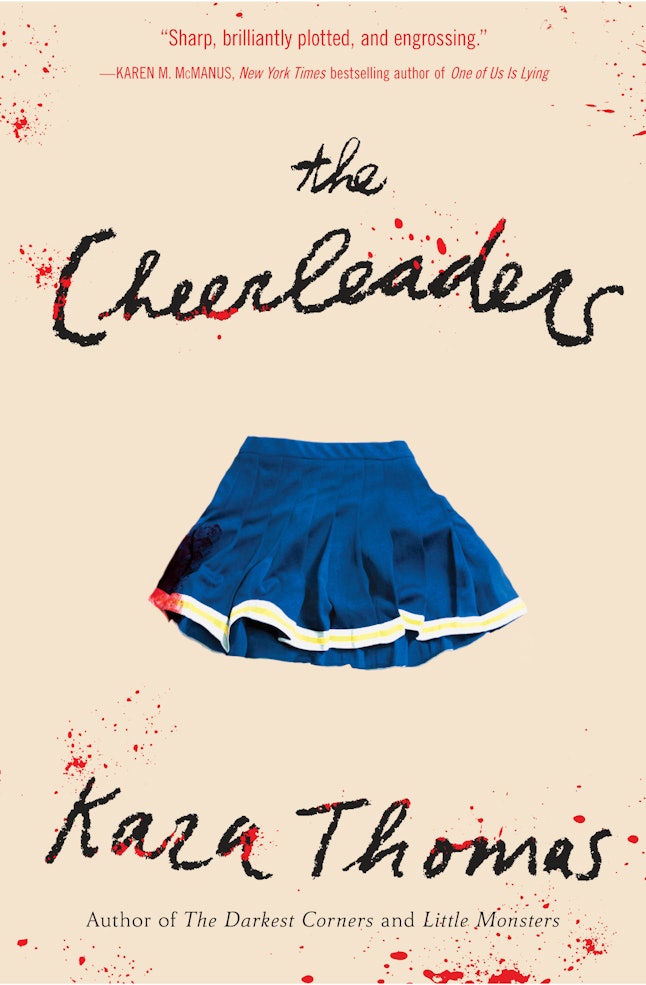 Book Talk Questions:
What does Monica find in her stepfather's desk drawer that causes her to start her own investigation into her sister's death?
Why does Ginny remind Monica of Jen? How does she inspire Monica to persist in the investigation?
What does Ethan tell Monica? What was his relationship with Jen?
How does Monica know Brandon? What does she realize about him at the Homecoming game?
What does Monica learn about Jen's death? What does she find about the deaths of the other cheerleaders?
BONUS: Monica changes a lot over the course of the book. What is the biggest change that you notice and what do you think caused this?
A Perfect Read for Fans Of…
Sadie
One of Us Is Lying
The Good Girl's Guide to Murder
People Like Us